Delightful gifts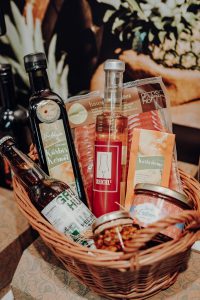 With a gift basket full of local treats you're not just doing the presentee something good, but even though the local economy. Appreciate the homeland and discover the region: many arguments reinforce to buy local.
Our local producers guarantee best quality, short delivery distances save the environment and guarantee best freshness. In times like this it's even more important than ever to keep the added value in the region to save the purchasing power.
Either in a precious basket or in a stylish gift box, with the varied assortment you're having many opportunities.
You neet help with your choice or the packaging? We're looking forward hearing from you.