Sweet GenussReich und verschenken.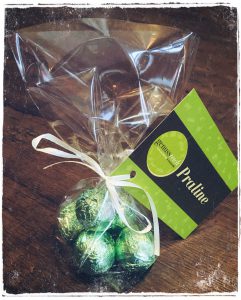 Um das gesamte GenussReich auch "süß verschenken zu können", haben wir die GenussREICH­-Praline kreiert. Ziel ist, die regionalen Produkte in den Sorten der Pralinen widerzuspiegeln. Die Pralinen werden von unserem Genussfreund Chocolatier Gregor Regner von der Konditorei Regner in Seckau, mit Liebe handgemacht.
Die erste Sorte steht für den Herbst unseres GenussReichs. Hochwertige dunkle Schokolade trifft Kürbiskern & Himbeeren aus der Region. Als zweite Sorte folgte die frühlingshafte Sorte Erdbeer-Nougat mit einem Hauch Veilchen.
Probier unsere hervor­ragenden GenussReich-Pralinen und überzeuge dich selbst!
Selling points for our "GenussReich"-pralines:
• GenussStube, Leoben
• Klein aber Fein, St. Michael
• GH Eberhard, St. Michael
• Bobby's, Proleb
• Lagerhaus, Trofaiach
• Raphi's Schmankerl, Trofaiach
• Reformkaufhaus Gruber, Kalwang
• Bio Imkerei Stabler, Kammern
P.S.: We wanna catch the other seasons too. So if you have any ideas or suggestions for another variety, just contact us.